CGS1151
Corgi Gift Set 1151 3 Part Promotional Set Co-op. Scarce. Very near mint/boxed.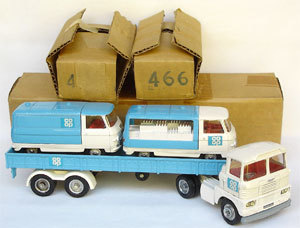 Price: £450.00
This item is no longer for sale, price for reference only.
Notes
A superb dairy trio in the distinctive blue and white finish with 'CO-OP' labels, produced for a very short time during 1970 only.
This set comprises:
1) Corgi 1151 ~ Scammel Truck with articulated, detachable trailer. Jewelled headlights. Close to mint condition. Inevitable marks where the trailer attaches to the cab and the fragile rear suspension struts are broken. Not immediately obvious. Bright and complete Co-op labels. Very nice indeed, complete with original plain brown card wrap-around box, and inner packing piece too.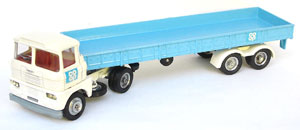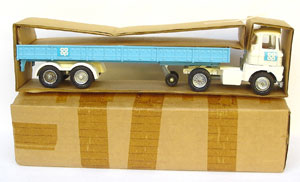 2) Corgi 462 Commer Van Co-op in near mint condition, with spring suspension and Co-op labels on both sides (slight age transparency). Rubs at door handles only. Partial stamped number on the original plain brown card packing.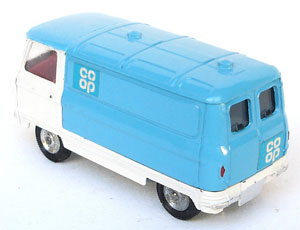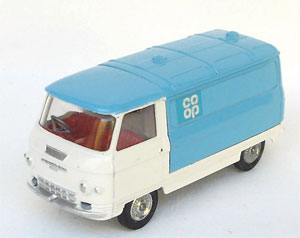 3) Corgi 466 Commer Milk Float in very near mint condition with rubs at door handles and slight age transparency to the paper labels. Spring suspension. Original plain brown card box has 466 stamped.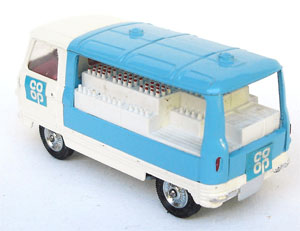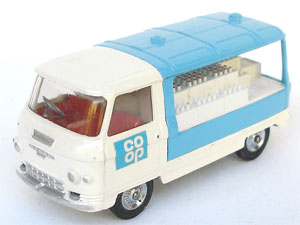 A scarce three part set!