Factory Overwrap 6 x Corgi Toys 300 Chevrolet Corvette Coupes
Chevrolet Corvette Stingray Coupe by Corgi Toys, No. 300. Sensational original Factory Overwrap of 6 boxed models. Assumed mint/boxed. From The Wesley Lodge Collection.
Notes
How exciting!
This cellophane overwrap of 6 Corgi 300 Chevrolet Corvette Stingray models will always be an enigma until the original factory cellophane overwrap is removed. It is always a special moment when one realises that these models have not been touched since they left the factory in 1970 (made for just one year). The secret as to whether they are lacquered green or red is completely safe (and probably always will be).
Each model is held within its blue and yellow window box with vivid colour scene on box reverse. It is worth noting that this overwrap of 6 models has been carefully stored so there are no corner crushes, crumple or heavy splits to this cellophane over-wrap (couple of little tears).
The boxes left the UK within the cellophane over-wrap destined for the US during 1970 and each box has a dollar price at an end.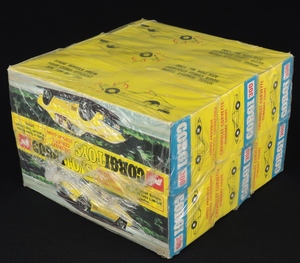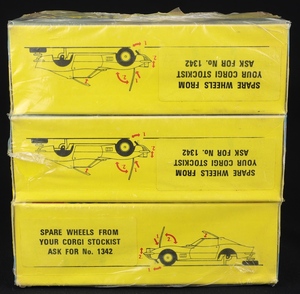 You may like