Solid Bronze Sculpture Corgi Lifetime Achievement Award
Product Details
Solid Bronze Sculpture by Ronald Cameron. A Lifetime Award presented to Arthur Katz, for his contribution to The Toy Industry as one of the founding members of the Mettoy/Corgi Company. QDT starting bid £750. Please note that QDT apply 12.5% buyer's commission.
Notes
Taking your Corgi Collection to another level.
We are honoured to bring to the market-place, this solid Bronze Sculpture by Ronald Cameron which was presented to Arthur Katz OBE in 1996 by The British Toy & Hobby Association.
This fine solid bronze sculpture by the renowned sculptor Ronald Cameron is approx 24cm diameter high, including the wooden plinth and weighs 2.24KG. With brass plaque.
Reverse view:
The ROLL OF HONOUR 1996 Programme: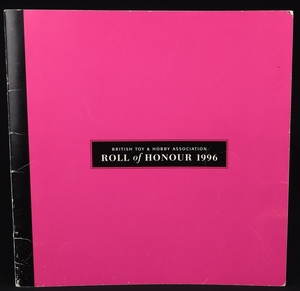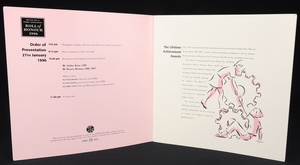 Arthur Katz is pictured here on the left with Philip Ullman (founder of Mettoy) at Buckingham Palace: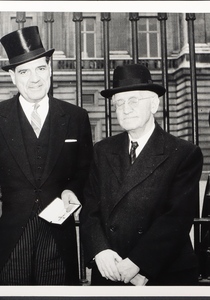 Other notable photographs included: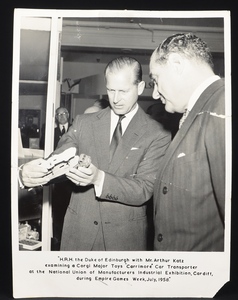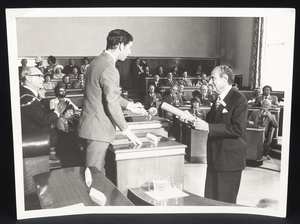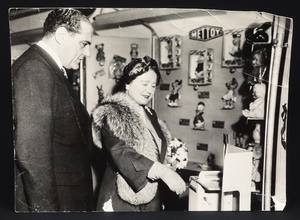 Extract from The Times in 1975: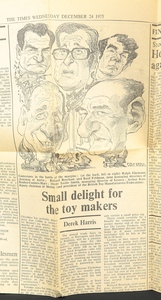 Background information on Artur Katz OBE
Arthur Katz was the first employee of Mettoy.*
It was Arthur Katz himself who settled upon the name Corgi – a humorous and grateful salute to the Queen from Katz, who was born in South Africa, went to Germany as a child, and settled in Britain before the war.
His contribution to the Corgi brand was enormous
At its peak in the early 1970s, the Mettoy company employed 3,500 people and, though there were rivals (notably Dinky & Matchbox), Mettoy was in a commanding position. Part of this was due to Katz's innovative approach.
Before he started the Corgi company, most die-cast metal toys were crude in comparison: factories simply painted the zinc-alloy forms pressed from moulds, and added wheels. Katz's success lay in the details.
'The First with windows'
His engineers and designers added such things as plastic windscreens and diamond-crystal headlights. To the great delight of the proud owners of Corgi cars, there were spring-mounted wheels, and boots and bonnets that opened.
Arthur Katz was born in Johannesburg to German parents. When his father died, he moved, at the age of 12, with his mother to Nuremberg, then the centre of the German toy industry. After an apprenticeship with one of the city's toy exporters, he joined a manufacturer of pressed-tin toys, Tipp and Company, owned by his mother's cousin, Philip Ullmann
In 1933, after Hitler swept to power, Katz, who was Jewish and held a British passport because he was born in South Africa, emigrated to Britain. Ullmann joined him, and founded Mettoy shortly afterwards.
Katz was the company's first employee
His duties ranged from office boy to salesman to general assistant to Ullmann. He stayed with Mettoy, supervising its growth from factories, first in Northampton, then Swansea, and eventually became chairman at the age of 69. Though the firm was never the biggest British toy manufacturer, Katz himself became the sector's leader, and served as head of the British Toy Manufacturers' Association in the 1950s and 70s.A Grandee of the British Toy Industry
Arthur Katz was president of the British Toy Manufacturers' Association from 1971 until 1976; he was appointed OBE in 1961 and CBE for export achievements in 1973.
Mettoy won a Queen's Award for Export three times.
You may like