Cherryca Phenix Models 15 Ford Thunderbird
Ford Thunderbird by Cherryca Phenix Models, No. 15. DUCK EGG GREEN. Very near mint/boxed. Extremely scarce model from the Japanese company,Taiseiya.
Notes
Made by Taiseiya, a Japanese company, this Ford Thunderbird model is part of a very small range of models issued between 1961-65. Rare to come to the market place.
This attractive Ford Thunderbird model has a pleasing, quality finish in duck egg green and cream, complemented by chrome details, a tin plate base, chrome wheels with white rims, treaded black tyres. Window glazing. Green interior. Suspension is fine if a little soft on one wheel.
In very close to mint condition.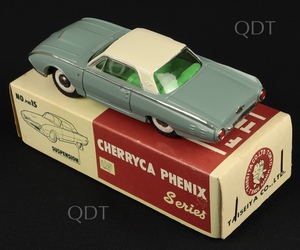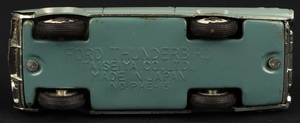 Model is 10 cms. in length.
Lift-off lid style box has a plain corrugated card wrap-around lower with a thinner card pictorial lid. Minor age wear.