Mebetoys Models A18 Alfa Romeo Duetto Spyder
Product Details
Alfa Romeo Duetto Spyder by Mebetoys Models, No. A18. Very rare gold-plated model. Rare special issue from 1968, presented in the correct 'Auguri 1968' box. Very near mint/boxed. From The Milan Collection. Starting bid £3000. Please note that QDT apply 12.5% buyer's commission.
Notes
A remarkable find from The Milan Collection. This is the extremely rare and sought-after gold-plated version of the Alfa Romeo Duetto Spyder, open top issue. Produced toward the end of 1967 and issued in 1968 in this distinctive 'AUGURI 1968' card box.
Key facts to note about this special version and which differentiate it from the standard Mebetoys Alfa Romeo Spyder:
1) Six wheel stud details.
2) No joints for a hard top to be affixed, this version has this specific interior detail pertinent only to this version.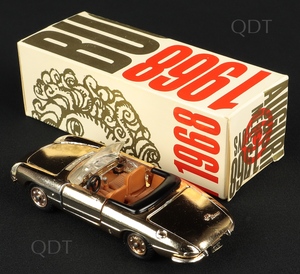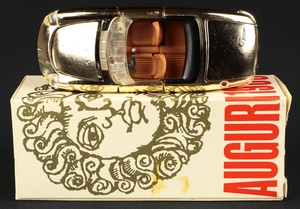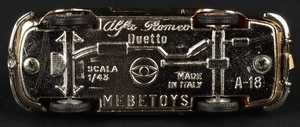 This exquisite model has a fine sheen to this gold-plated finish. Actually, this model was issued in various tones of gold, this version has a rich 'true gold' hue.
Examining it carefully, there are a few minor surface marks. Graded very near mint, with intact suspension and a complete and intact screen. Black hood. Opening bonnet and boot.
The complete and clean distinctively illustrated card box has just one small handling tear and a small stain on one surface which appears to be the residue from a price label, or similar.
As a point of interest and for associative provenance, the new owner will receive a snapshot of Cavalieri Ugo Besana, Mebetoys models designer, pictured with the owner of the gold-plated Alfa Romeo Duetto Spyder whilst viewing his collection.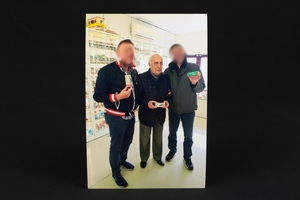 You may like