Corgi Toys 261
Corgi 261 James Bond's Aston Martin D.B.5. See GOLD Bullet Screen - tell-tale sign that this model is unused. Very near mint/boxed. 2nd issue. Version WITHOUT INDICATOR LIGHT CASTING. With Secret Instruction Packet & 'Model Car Makers to James Bond' Leaflet. Very nice 2nd issue box & plinth. An iconic Corgi Toy from The Eric Morris Collection.
Notes
One of the most popular Corgi models ever, issued between 1965-69.
This James Bond Aston Martin is in all original condition with none of the reproduction accessories, rife with this issue.
The car is fully functioning, complete with both figures. It has a pleasing lustrous gold finish and intact suspension on all four wheels.
Very near mint condition. The gold coating on the bullet screen looks as-new – a sure sign that this model is unused since it is the operation of this gadget that easily removes the this gold finish. Used James Bond's Aston Martin models often have a little chip roof centre – this example is happily free of this blemish and another sign that it has spent the majority of the last 50 or so years in its box.
Occasional minor mark.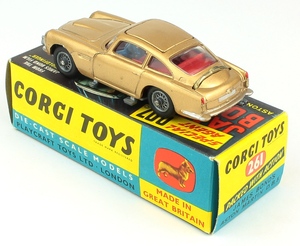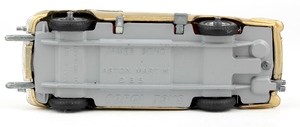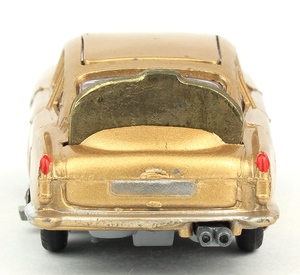 Note this casting does not have the indicator light detail, which was not present on later issues. For more details on Corgi 261 generally, please do refer to our Blog article.
Original tyres run well.
The plinth (with SECRET INSTRUCTION arrow, so 2nd issue) on which the model sits is complete with both pull-out end tabs. Crisp and fresh, with a light crease and a couple of very small wheel slot tears.
Reverse: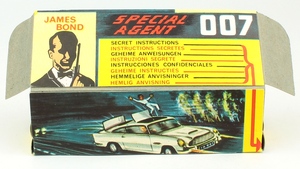 The Instruction Packet has been opened carefully. Inside you will find the Secret Instruction Leaflet and spare villain, and badge.
'Model Car Makers to James Bond' Leaflet, too.
The 2nd issue outer box is clean, silky, brightly-coloured and complete.
Note that since it is 2nd issue there is shading detail around the lettering ASTON MARTIN DB5 on the box face and a black border around the JAMES BOND'S lettering. Light wear (crease on a non-picture surface).