Corgi Gift Set 41
Corgi Gift Set 41 Carrimore Car Transporter with SCAMMELL Cab. Rare LATE version (1969). Near mint plus - very, very near mint/boxed, with Instruction Slip/Corgi Club Membership Form. All packing & Mail Order Card Over-Sleeve. From the 'Exclusively Mini' Collection. Bids are invited on this model - please see the relevant section on our Faq Page. QDT starting bid £1000. Please note that QDT apply 10% buyer's commission, with a ceiling of £100.
Notes
A sought-after and scarce Mail Order Gift Set from 1969 only: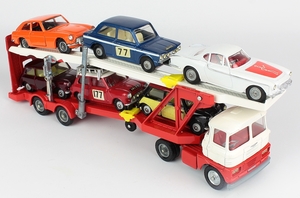 This exciting and colourful set comprises:
1) Corgi 1148 Scammell Car Transporter . Very near mint. Barely a mark. Full complement of yellow plastic chocks.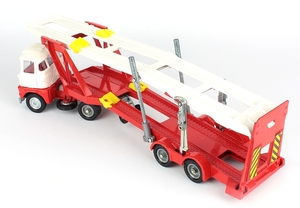 2) Corgi 258 The Saint's Volvo in white with a red bonnet label. Cast wheels. Very near mint.
3) Corgi 240 Sunbeam Imp in metallic blue. Labels are complete save for a couple of tiny nibbles to the front 'Monte Carlo' transfer. Very near mint with intact suspension notably.
4) Corgi 345 MGC GT in orange, with sheet of unapplied racing numbers. Spoked wheels. Near mint plus. Small paint blemish on roof (little as-made "crazing line").
5) Corgi 226 Morris Mini Minor in maroon, with cast wheels. Very near mint.
6) Corgi 339 Mini Cooper 'S' Monte Carlo, with roof rack. Cast wheels. Very near mint, nick to the bonnet label.
7) Corgi 249 Wickerwork Mini. Cast wheels. Very, very near mint with jewelled headlights.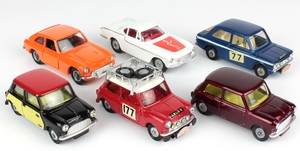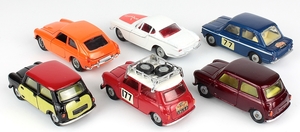 All contents are housed in a polystyrene tray which is formed for this particular issue (so different shaping for central section when compared with the polystyrene tray for the Ford version). Complete with Corgi label with dog logo still in place.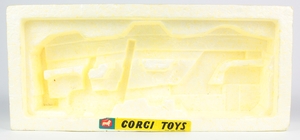 The colourful card lid is exceptional – clean, complete and so vividly-coloured. Very fresh indeed and comes complete with the Mail Order Label at one short lid end.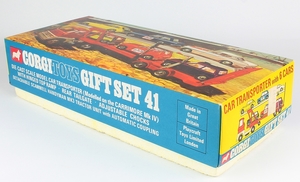 Barely any wear at all.
Instruction Leaflet with Information on rear folding seats for the Hillman Imp. Reverse has the printed Membership details.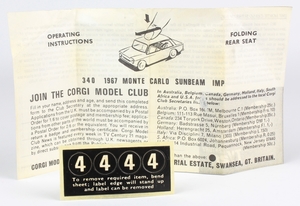 Nice to see all 3 packing pieces still present:

Outer Mail Order Sleeve: