CJ3080
Corgi Junior 3080 Batman Gift Set. Mint/boxed. Rare.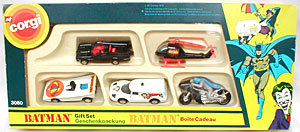 Price: £375.00
This item is no longer for sale, price for reference only.
Notes
Part of the superb 1970's Corgi collection just in – you could spend a lot of time searching for another in this condition!
This example is in outstanding condition and contains a Batmobile, a Batcopter, a Penguinmobile, Jokermobile, and Batbike. All items look as if they have never been removed from the box.
The Set has been very carefully stored and displays barely any age wear at all and smooth original cellophane. The colours throughout are fresh and bright.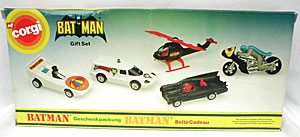 For the extra-fastidious, one may find the odd crease or rub, but really this set is as fine as the day it left the toyshop!
One not to be missed!