CJ11
Corgi Prototype Austin Healey Sprite. Over-sized mould in resin. Extremely rare item from The New European Collection.
Notes
An exceptional collection of prototypes were purchased by ?The New European? Collector, largely originating from two well-documented sources i.e. the auction of the property of Marcel Van Cleemput at Sotheby?s Auction House in 1999 and the Losch Auction House in Germany during 2000.
From The Losch Auction 2000. Part of the production process, this is an accurate over-sized factory mould in resin measuring approx. 20cms. Tiny chips and wear on this unique item.
Corgi went on to produce this model as a Junior model No. 11. The Corgi Junior Austin Healey Sprite model was issued during 1970. No full-sized Corgi version was never produced. We surmise that this mould was due to be used for a potential full-size Corgi model that never came to fruition.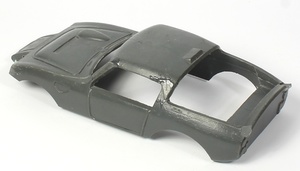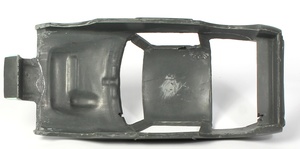 For more details on the manufacturing process, please see pages 26-7 in The Great Book of Corgi for more explanation.
We are indebted to The Corbridge Collector for helping us identify this mould!