Wiking VW Export Limousine (Beetle)
Wiking VW Export Limousine (Beetle). Black (SCHWARZ) issue. Scarce PROMOTIONAL model. High-quality plastic construction. Mint/boxed. With LEAFLET & original VW printed wrapping tissue/boxed. From The 25 Year Collection in California.
Notes
A note from a Wiking specialist:
These Wiking models are quite rare. They are in 1:40 scale and were exclusively made for Volkswagen in the 50s and 60s of the last century. They were give-aways for new car buyers (to please their little boys I assume). It is interesting to know that Wiking made these cars in the same colours the originals were, also they were pure promotional items for VW only and never available in the shops.
The owner has added this information:
Wiking made unique Beetle models for 1948 (split rear window), 1953 (oval rear window), '57, '59, '60, '61, and 1967.
This model represents the 1960 Beetle, so the older vintage.
In 1967 the bumpers were changed to a flat profile and the body was modified around the head lights.
Superb old shop stock quality item from this collector, this VW Beetle model has an attractive sleek black finish, grey seating, white steering wheel, silver trim, window glazing.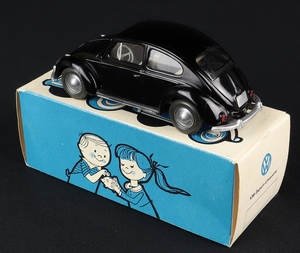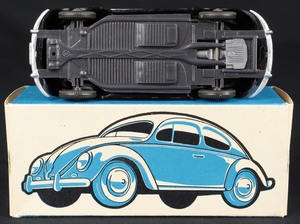 Crisp, clean and fresh, very close to old shop stock quality box with original VW printed wrapping tissue, informative leaflet (small corner portion missing) and SCHWARZ printed on one end.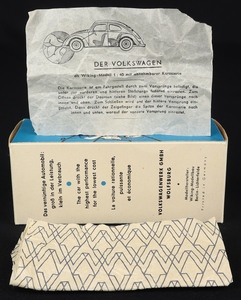 You may like