CLAH
Original Corgi Pencilled Drawings of 2 proposed but never released Laurel and Hardy Vehicles with Hand-written Notes. More 'One of a Kind' ephemera from the office of Marcel Van Cleemput, courtesy of The MBU Collection.
Notes
Discovered in the office of Marcel Van Cleemput the chief designer for Corgi, this is just a sample of the many ephemera items given to the MBU Collector as a thank you for his help with 'The Great Book of Corgi'.
Two proposed Laurel and Hardy vehicle pencilled drawings on 2 large cream paper sheets ( each approx. 70 cms. wide).
1) Bath Tub on Wheels – comical invention with a brush that would hit Stan on the head as the vehicle moves along! Tap at the front would act as a tiller.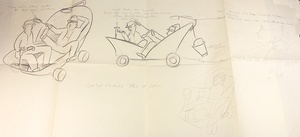 2) Tea Party Vehicle which includes Oliver Hardy sitting aboard a wingback armchair and Stan Laurel pouring tea at a table. As the vehicle moves along the tea cups, teapot etc would jiggle up and down (due to the crank on the axle).
Two delightfully inventive models with moving parts – detailed compositions which remind one of Corgi's Popeye's Paddle Wagon .
These proposed models never made it beyond the 'drawing board' stage however.
A tantalising and unique glimpse into Corgi's backstory.